Senior living communities face many challenges. Rising operating costs, increasing acuity levels, staff turnover and competition make it challenging to improve resident care and satisfaction. Luvozo is changing the way residents interact with their senior living community. We've built SAM, combining the very best in cutting-edge technology and human touch to provide frequent check-ins and non-medical care for residents in long-term care settings.
All-in-One Solution
Our SAM Robotic Concierge™ delivers an unparalleled experience in resident-centered care:
Frequent and personalized check-ins with residents
Media and communications portal for hands-free video and calling
Continuous and automated environmental fall hazard assessments
On-demand non-emergency call button response
Tele-operated by our trained off-site care professionals at key times for natural interactions and conversation
The latest in state-of-the-art technology engagement!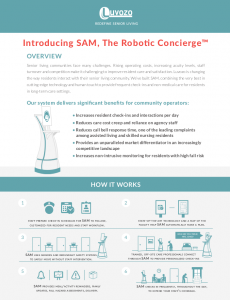 Download our SAM Overview Brochure
SAM Benefits
We've worked alongside front-line care staff, industry professionals, and fall prevention researchers to address some of the biggest needs in long-term care. SAM focuses on improving the resident living experience while supplementing staff in non-medical tasks. From helping residents and care staff, to providing a unique differentiator for family discussions, SAM has something for everyone in your community.
Residents
More interactions and timely attention, leading to increased socialization and reduced fall risk in certain situations
Family
Better communication options to stay close
Care Staff
Fewer call bells, reduced stress, and more quality bedside care
Administrators / COOs
Care insights and population management, market differentiation and increased resident satisfaction
What Residents and Staff are Saying
Skilled nursing facilities need to invest in more technological advances to improve care and resident satisfaction. Our experience with SAM demonstrates that promise and we are excited about this opportunity.
Administrator
Washington, D.C. senior living community
This could really help prevent falls, assist with rounds, and take over menial tasks. I think everyone could use a SAM.
Director of Nursing
Washington, D.C. senior living community
I like SAM. He's a pleasant presence.
Resident
Washington, D.C.
Original SAM in Action
SAM isn't science fiction. It's here now and ready to make a difference in long-term care. Our first SAM was tested in a D.C. senior living community in mid-2015, quickly became part of the team and provided a warm experience for residents and staff alike. See photos below.
Contact us today!
SAM will deploy exclusively to our Early Access Program members in mid-2016. Interested in having SAM make a difference in your community? We have a limited amount of openings for this exclusive early launch, so contact us today for introductory pricing: