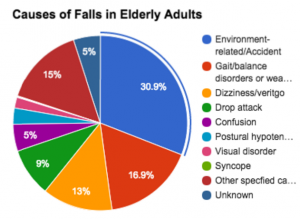 We are pleased to announce that the National Science Foundation has awarded us a Federal grant through the highly competitive Small Business Innovation Research (SBIR) program to develop fall prevention technology that could save thousands of lives each year. One in three adults over the age of 65 fall each year, and 31% of those falls are attributed to environmental hazards such as floor clutter, rugs, poor lighting, and low contrast. Costs associated with falls will reach $55 billion by 2020 according to the Centers for Disease Control and Prevention (CDC). The economic, social, and health impacts of falls will only continue to get worse as the older adult demographic increases from 40 million today to 72 million in the next 15 years. Through this project, advances in hazard detection algorithms and decision support approaches will contribute to helping prevent millions of falls among older and disabled Americans each and every year. By expanding access to expert environmental fall hazard assessments, we hope that our technology can reduce the rate of hospitalizations and costly readmissions attributed to falls.
Building on our expertise and experience in artificial intelligence, sensor fusion, and computer vision, this project will accelerate development of our patent-pending technology and apply it to a variety of settings and devices in the healthcare sector. Our Automated Fall Assessment System identifies environmental fall hazards and, when deployed in the home, can supplement the overall home assessment typically performed by in-home professional visits. Members of our SAM Early Access Program will be the first to experience the benefits of this technology, followed by a phased roll-out.
This NSF award follows Luvozo's involvement in the NSF-funded D.C. I-Corps program in late 2014.
Please send all press, customer, and business development inquiries to [email protected].